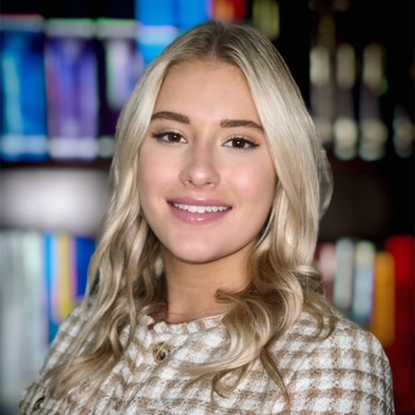 Olivia Bergert
Associate Attorney
Bio
Olivia Bergert attended the University of North Florida for her undergraduate education and graduated Magna Cum Laude with a dual Bachelors Degree in Criminal Justice and Political Science. Upon her graduation, she was accepted into the Stetson University College of Law, where she was an Executive Board Member of the Florida Association of Women Lawyers and was the Committee Chair for the Stetson Intramural Mock Trial Competition.
While at Stetson, Ms. Bergert not only competed on the Number One Trial Team in the country but also earned the opportunity to prosecute a jury trial while still a law student – leading to her expeditious rise at the State Attorney's Office at the young age of 25.
Prior to practicing criminal defense, Ms. Bergert was an Assistant State Attorney in the 7th Judicial Circuit spanning St. Johns, Putnam, Flagler, and Volusia counties. While in the Volusia County Office, she prosecuted more jury trials than anyone else in her Misdemeanor Division, which accelerated her promotion to a felony within eight months of her start at the State and made her the youngest felony prosecutor in the circuit.
Shortly after, Ms. Bergert transferred to the St. Johns County Office Felony Division – where she handled thousands of cases – predominantly of a violent felony nature including crimes of: Aggravated Battery, Domestic Violence Strangulation, DUI Manslaughter, Drug Trafficking, Aggravated Fleeing, and Arson. She also handled cases with sentencing enhancements such as Habitual Felony Offender and Prison Release Re-Offender.
Ms. Bergert's keen sense of the law, understanding of the intricacies of complex criminal litigation, and her talent for spotting legal issues make her a valuable asset in our pursuit to obtain the best possible outcome for your case.